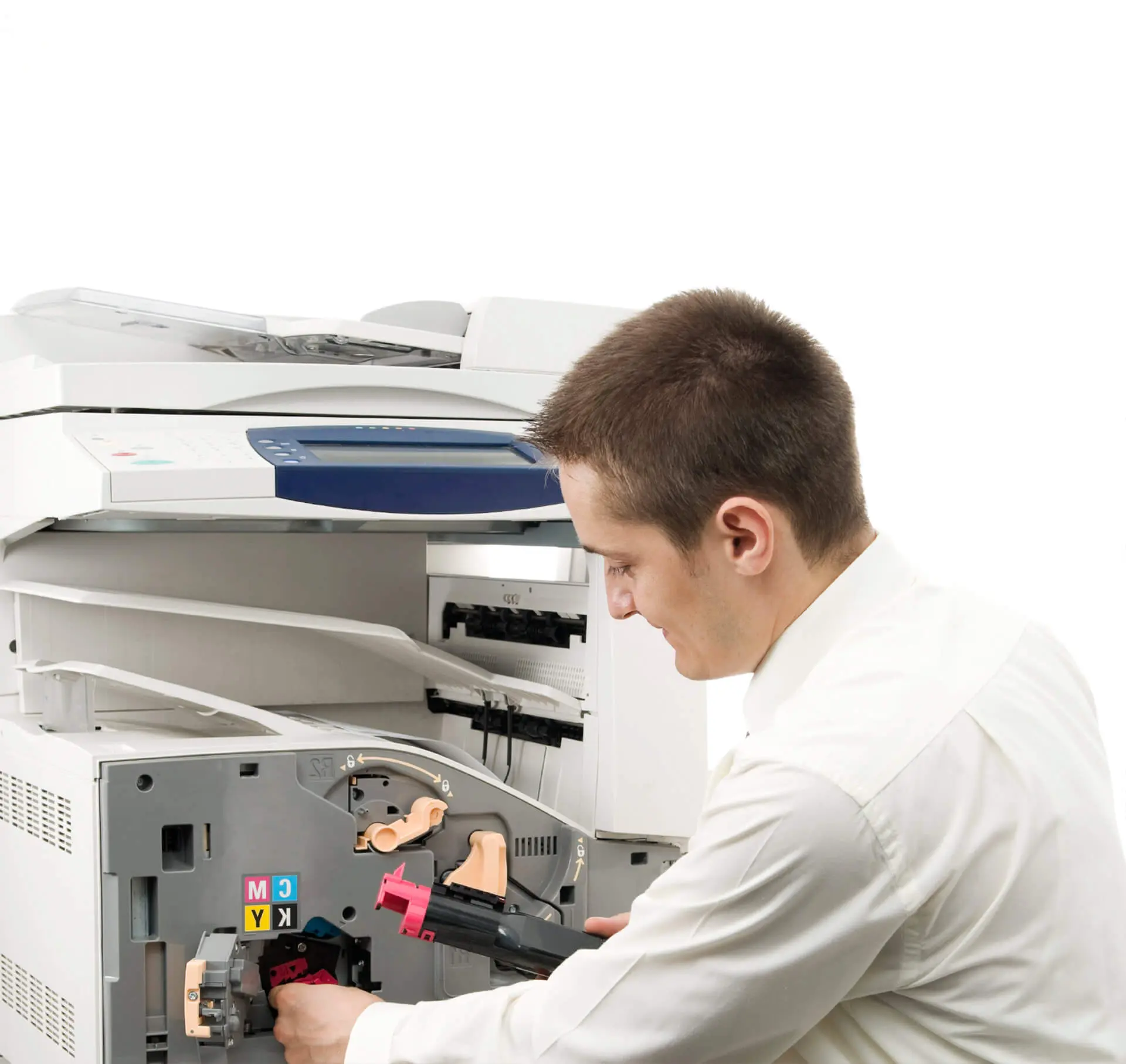 Printer Repair & Photocopier Repair & Service
Services we offer are Printer Repair, Printer Repairs, Photocopier Repair. Call us on 01 8645088 for Sales & Service. Copy & Mail-Room Services – supply and service Photocopiers & Printers.
We offer a call out service to Repair your Printer or Photocopier and get you back up & running quickly. Nationwide Coverage, with Same Day Response in Dublin & surrounding areas. We only use Genuine Parts & ALL repairs are guaranteed.
Very experienced Professionals with over 30 years' experience in the Office Business Equipment field.
We help you to keep your business running smoothly by repairing & maintaining your Printers & Photocopiers, quickly & efficiently.
Our team at CMS – Copy & Mail-Room Solutions have many years of knowledge in the area of Printer Supply & Repair.
We can repair & support most of the Major Manufacturers Brands such as HP, Hewlett Packard, Brother, Epsom, Ricoh, Kyocera, Utax, Lexmark, Oki, Olivetti, Sharp, Canon
At CMS, we have built our reputation on supplying excellent products and providing first class after-sales service & customer care. We are a wholly-owned Irish Company based in Dublin, but covering all of Ireland.
We have service locations in Dublin, Cork, Limerick, Galway & Belfast
Our customers range from Government to Commercial to Educational. Over 3,000 Customers & Counting!
We also offer a Third-Party Printer Service & Support function to many small, medium & large IT providers.
We support their customers printers which means they can offer a more complete service to their customers.
We can supply & install a new Printer or Multifunction Copier, Printer, Scanner to their customers office, or service & repair an existing one on site with their customer.
CMS was set up by Daniel Collins, He has always had a reputation for putting the customer first and at CMS we believe it's all about the "After-Sales Service" and the "Customer Experience".
Here are a small sample of our customer comments.
"CMS are supplying us printers for our Construction site offices. The company is efficient and fast – deliveries (ink) are quick and they are helpful on any request you have. Technician is with you very quickly to fix any issue. I personally recommend CMS for their services!"
"CMS runs an amazing service. My printer was broken, and I tried all the troubleshooting options I could on my own and nothing helped. The technician was very friendly and answered any questions I had. I was ill and needed to reschedule my appointment and they were more than accommodating. 10/10 service I would use them again and recommend them as they can assist with smaller printers and big office printers"
"If every service was as good as CMS, it would be fantastic. Very prompt service and extremely helpful staff, who check in with us very regularly. I 100% recommend them."
"What a fantastic business to use. CMS are supplying us with printers for our site offices and are as efficient as you could hope for. they give very friendly calls to check if everything is ok or if they can do anything for us. when there is an issue, they have a technician with you very quickly…who are all very knowledgeable. ordering ink is also very fast and efficient which is what we need on a busy site. would HIGHLY recommend!!"
Give Daniel a call & let him know what you need.
Source – Google Reviews
We have Offices in Dublin, Cork, Limerick, Galway & Belfast, which means that we offer Nationwide Service. All products can be financed through our Easy Finance & Lease Rental options.
CMS supply & service most of the Major Manufactures Printer & Photocopier We repair & service Printer & Photocopier Manufacturers such as Kyocera, Ricoh, Lexmark, OKI, Utax, Canon, HP, Olivetti, Sharp etc.
Call us now on 01 8645088 to speak to us, or email info@cms-ireland.com